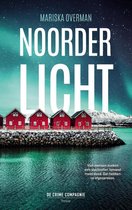 Noorderlicht
Mariska Overman

Als het zeilschip de haven verlaat voor een reis langs de Noorse fjorden zijn er onder de twintig opvarenden vier mensen die elkaar wel maar ook niet kennen. Vier jongelui die elkaar online hebben ontmoet en over boeken praten: Noor is Nederlands. Frode is Deens. Magnus is Engels. Katja is Duits.
De voertaal is Engels, wel handig, want de andere passagiers zijn een mengelmoes: Duits, Frans, Engels , Spaans en Amerikaans.
En er is de bemanning, bestaande uit vijf mensen. Ze zijn tot elkaar veroordeeld. Dat klinkt akelig maar als je weet wat de vier jongelui van plan zijn, dan is dit de situatie. Online hebben ze het beroemde boek van Dostojewski besproken, bekend onder de titels Misdaad en straf, of Schuld en boete.

Voor wie dat boek niet kent wordt in de weergave van de onlinegesprekken die ze voorafgaande aan deze reis hadden beknopt uitgelegd waar het om gaat. De hoofdpersoon is de student Raskolnikov, die een moord pleegt waarover hij zich niet schuldig voelt. Ze verdiende immers de dood. Maar het verliep niet helemaal volgens plan, er werd nog iemand vermoord. Die tweede moord zorgt wel degelijk voor een schuldgevoel bij de student. Het boek gaat in feite daarover: kun je een moord plegen en dan gewoon verder gaan met je leven?
Als een van de vier zegt: 'ik heb een idee.' wordt het zaadje geplant. Zij gaan een moord plegen, die de perfecte moord moet zijn, waarna zij ieders huns weegs zullen gaan.

'Iedereen is in staat tot moord. We willen graag geloven dat moordenaars de anderen zijn. Slechte mensen, gestoorde mensen, zieke mensen. Niet jij, jij bent een goed mens. Ik geloof daar niet in. Iedereen is in wezen een moordenaar, alleen niet iedereen brengt het in de praktijk.'

Ze hebben een cruise geboekt, waarbij het de bedoeling is dat ze het Noorderlicht gaan zien, en walvissen misschien. De vier hebben daarnaast een afspraak: binnen die zeven dagen zullen ze een slachtoffer uitkiezen. Er moet een meerderheid zijn voor die keuze, en dan moet de ander zich daar bij neer leggen.

Een interessant gegeven dat door Mariska Overman uitstekend uitgewerkt wordt. Tussen het verhaal door zijn er stukjes informatieve tekst, over het Noorderlicht, de zee en andere dingen. Dan zijn er de flashbacks: de onlinegesprekken. Noor is min of meer de hoofdpersoon – in ik-vorm - die het verhaal vertelt van wat er op de boot gebeurt. En dan is er nog het interview op de televisie, waarbij een aantal niet nader genoemde mensen vertelt over hun ervaringen, natuurlijk zodanig dat het tot op het laatst onduidelijk is wie er aangewezen is als slachtoffer.

Dat blijkt nog een dingetje, want de vier kennen elkaar eigenlijk ook helemaal niet. Er ontstaan onderlinge verstandhoudingen, wisselwerkingen tussen hen, de bemanning en de passagiers. Behalve het ene echtpaar dat meereist kent niemand de anderen, het wordt een boeiend psychologisch proces: elkaar aftasten, vind ik jou aardig of toch niet. Ben jij iemand die we niet zullen missen. Wie ben jij? Wie lijk je te zijn?
Oordelen die kunnen veranderen als je elkaar beter leert kennen al of niet in relatie tot iets dat gebeurt.
Af en toe legt het schip aan, en maken ze uitstapjes. Het is ijzig koud, hetgeen de sfeer tekent. En het Noorderlicht laat zich maar niet zien…

Mariska Overman is in 2017 gedebuteerd, en kent intussen het klappen van de zweep. Ze heeft nog enkele verrassingen in petto voor de lezer…
Het is een uitermate boeiend en origineel verhaal, dat je graag uitleest vanwege de onderhuidse spanning.

Mariska Overman (1970) heeft theologie gestudeerd waarna ze werkzaam is geweest als docent Levensbeschouwing. Maar ze is vooral bekend als thrillerschrijfster. Toch staat er ook een historische roman in de steigers en schreef ze eerder een non-fictieboek over rouwverwerking. Ze heeft een advies- en communicatiebureau met als missie 'de dood bespreekbaar maken'.

ISBN 9789461094766 | paperback | 300 pagina's | Uitgeverij The Crime Compagnie | februari 2021
© Marjo, 12 april 2021
Lees de reacties op het forum en/of reageer, klik HIER