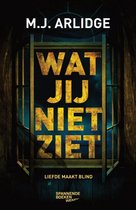 Wat jij niet ziet
M.J. Arlidge

Op een feestje ontmoet de blinde Emma Forbes, ex-soldaat Mark en ze wordt verliefd op hem. Mark is zowel mentaal als fysiek beschadigd door z'n tijd in het leger en houdt het liefste afstand tot de vrienden van Emma, hoewel hij uiteindelijk wel met haar meegaat naar haar moeder, die in het ziekenhuis ligt.

Manchester wordt geteisterd door een insluiper, die mensen in hun huis overvalt en zwaar mishandelt. Het enige aanknopingspunt dat de politie heeft is dat de dader een opvallend litteken in z'n nek heeft. Emma begint zich op een gegeven moment af te vragen of Mark de dader misschien zou kunnen zijn. De beschrijving van de dader zou op hem van toepassing kunnen zijn. De vrienden en collega's van Emma stellen haar gerust. Ze beschrijft Mark immers als een lieve man, die haar absoluut geen pijn wil doen. Emma blijft zich toch afvragen of ze hem wel kan vertrouwen.

Het is een spannend boekje, dat is uitgegeven ter gelegenheid van de Spannende Boeken Weken 2020 en ik heb eerlijk gezegd maar een opmerking, namelijk dat het volgens mij niet de bedoeling is dat vreemden een geleidehond aanhalen.

ISBN 978 90 5965 520 1 | Paperback | 95 pagina's | Stichting Collectieve Propaganda van het Nederlandse Boek | 2020
vertaald door Jan Pott

© Renate, 14 november 2021
Lees de reacties op het forum en/of reageer, klik
HIER