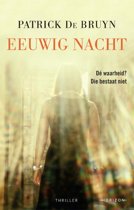 Eeuwig nacht
Patrick de Bruyn

Elise bezoekt haar grootvader, mijnheer Adam, in het ziekenhuis, niet alleen omdat hij haar opa is, maar ook omdat hij bereid is om gesprekken met haar te voeren in het kader van haar opleiding. Opa vertelt haar dat hij naar huis mag. Dat vindt ze vreemd. Niet naar een revalidatiecentrum? Dat blijkt eigenlijk wel te moeten, hij werd opgenomen met grote uitputtingsverschijnselen, maar mijnheer Adam is eigenwijs. Ook al heeft hij in de afgelopen maanden ook al drie keer een ongeluk gehad met zijn auto. Dat liep dan wel goed af, maar toch.


Elise maakt zich ongerust. Terecht blijkt. Want net voor mijnheer Adam naar huis zou vertrekken wordt hij dood gevonden.
Bij het lezen van het testament blijken al zijn bezittingen naar zijn veel jongere vriendin te gaan. Hij had Elise al eerder verteld over die fantastische Michèle Godeau. Elise weet intussen dat haar opa die laatste dagen toch een beetje begon te twijfelen aan deze mevrouw:

'Ze heeft het natuurlijk geweldig druk. Zoveel patiënten die haar aandacht opeisen. En ze is een pietje-precies. Ze wil voor iedereen het beste…' Maar daar klonk minder adoratie in door dan er ooit was geweest.
'Bedoel je dat ze je niet zo vaak is komen bezoeken?'
En ineens liet hij de idolatrie volledig achterwege en reageerde enigszins geprikkeld:
'Dat kun je wel zeggen ja. Ik had het nochtans anders verwacht. Dat kan toch niet zo moeilijk zijn om even binnen te springen. Ze werkt hier toch.'

Naast deze aanwijzing was er ook dat eigenaardige voorwerp dat Elise steeds aantrof in de auto's na de ongelukken, een voorwerp dat er onschuldig uit zag, maar makkelijk de rem klem had kunnen zetten. Voor Elise is er geen twijfel: deze mevrouw, die Michèle, heeft haar grootvader opgelicht en diens centen ingepikt. Als ze later van haar vader hoort hoeveel geld er van de rekeningen afgeschreven werd ten behoeve van haar fratsen, en als ook de laatste onroerende goederen door haar ingepikt worden, gaat ze op onderzoek uit en stuit op nog een verdacht overlijden waar Michèle bij betrokken was. Haar besluit staat vast. Dat moet afgelopen zijn, die oplichterij!

Het verhaal van zijn vader en de valstrik die hem zijn leven heeft gekost wordt onderwerp van het boek dat Jean-Pierre, de vader van Elise, gaat schrijven. Maar dat blijkt zo makkelijk nog niet te zijn.

De vorm van het verhaal is bijzonder: Jean-Pierre laat zijn dochter stukken lezen en ze voeren hele gesprekken over hoe die intrigante hun vader/opa zijn geld afpakte voordat ze hem om het leven hielp. De grenslijn tussen fictie en non-fictie blijkt lastig.
Voor de lezer wordt het eveneens onduidelijk: wanneer is wat je leest het verhaal dat Jean-Pierre schreef, en dus wat hij er misschien bij verzon, en wanneer is het daadwerkelijk wat er gebeurde? Maar deze twijfel maakt het verhaal niet minder aantrekkelijk. Integendeel, het is intrigerend er achter te komen – of niet. Het is geen thriller met veel actie, maar daarentegen een boeiende psychologische misdaadroman geworden.

Humor zit er ook in, deels door de Vlaamse taal: 'toen het grillen werd, was het te laat.' Maar ook door zinnen als deze:
'en dat allemaal door de vlinders in zijn buik.'
'Alleen kon hij het onderscheid niet maken tussen de vlinder en de vampier.'

De auteur heeft in dit boek net als zijn mannelijke hoofdpersoon geschreven over zijn vader. Hetgeen niet makkelijk was, stelt hij. 'Dè waarheid? Die bestaat niet' staat op de omslag.

Patrick De Bruyn (Halle, 22 augustus 1955) van oorsprong psycholoog heeft als Vlaams misdaadauteur zijn sporen verdiend. Zijn thrillers worden gekenmerkt door een beschrijving van gewone mensen die door het noodlot of door eigen toedoen in een nachtmerrie belanden.
Zijn boeken werden genomineerd voor de Gouden Strop, de Diamanten Kogel en de Hercule Poirotprijs. De laatste prijs won hij met Dodelijk Verlangen in 2010.

ISBN 9789492958464 | Paperback | 304 pagina's | Uitgeverij Horizon | maart 2019
© Marjo, 30 juni 2019

Lees de reacties op het forum en/of reageer, klik HIER