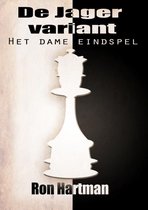 Het Dame eindspel
De Jager Variant 2
Ron Hartman

Erik was ICT- en communicatiespecialist bij de AIVD toen hij ingehuurd werd om bij de Nederlandse vestiging van het BRI (Amerikaanse Business Relations Incorporated) te achterhalen wie er achter de diefstal zat van ultra-geheime innovaties van Nederlandse topbedrijven. SCI-CLOPS heet de operatie waar hij mee bezig is. Zijn bemoeienissen worden niet op prijs gesteld, waarna er zich een schaakspel ontwikkelde, dat zijn gezin het leven kostte.
Het eerste deel van De jager Variant eindigde met een explosie van geweld op een platform in zee. Hoofdpersoon Erik de Jager slaagt erin om die plek levend te verlaten, het kost hem zijn laatste krachten om zijn vriend en arts Thomas te bereiken. De arts lapt hem op, en moet hem tegen zijn zin laten gaan. Want Erik laat zich niet stoppen. Na de dood van zijn vrouw en hun twee kinderen heeft hij nog maar één doel:

'Ik heb gezworen iedereen te doden die bij hun dood was betrokken. Ik moet er nog één. De belangrijkste'.
'Je… je bent een… een moordenaar?'
'Ik verlos de wereld slechts van parasieten die al vele levens op hun geweten hebben'.

Of hij er op dat moment aan denkt weten we niet, maar er ook nog een tegenstander die in leven is, ze is zelfs zijn gevangene: Alexandra. Zij wordt met man en macht gezocht door haar wanhopige vader, maffiabaas Cesare Marechisio. Zijn handlangers doen hun best, maar krijgen pas een kans als eindelijk alle kaarten op tafel komen. Ook voor Alexandra en Erik die zelf hun conclusies trekken uit wat er allemaal gebeurd is en nog gebeurt.
Dat leidt opnieuw tot spannende situaties, zodat je ademloos doorleest.
Dit tweede deel kan niet los van het eerste gelezen worden, en toch is het een heel ander boek.
Deel een zit vol actie, vaak hard en meedogenloos, vaak nogal ingewikkeld.
Is het de dame van het eindspel, waardoor deel twee meer psychologisch is geworden? Actie ontbreekt niet hoor, zeker niet. Er zijn nog steeds levensgevaarlijke situaties, waarbij slachtoffers vallen. Maar het ergste lijkt erop te zitten. Er is genoeg spanning, maar die is anders.
Nu beginnen de tegenstanders uit te zoeken wat er precies gebeurd is en hun plan van actie te maken, terwijl Erik er steeds meer naar verlangt om zich terug te trekken om eindelijk eens van de rust te genieten waar hij zo aan toe is.
Maar tussen de kaarten die op tafel kwamen zitten nog enkele losse draadjes die absoluut aandacht verdienen.

'Voor het eerst in zijn leven als operative moest hij erkennen dat hij dingen niet naar zijn hand kon zetten. Voor het eerst ontbrak hem de kracht om nog ergens tegen, of voor, te vechten. En kon hij zich niet langer verzetten tegen dat wat nu echt onontkoombaar was.
Toen de lawine die zich over hem uitstortte in kracht afnam en vaart begon te minderen, kwam hij eindelijk weer bij wie hij in de kern was als mens.'

Dit maakt het tweede deel prettiger om te lezen.
Het is ook knap hoe de schrijver tot op het laatst de spanning er in weet te houden. Er zijn veel spelers, die je zonder problemen uit elkaar kunt houden, en er zijn de nodige verrassende wendingen.
Het was het eindspel…maar er is toch enigszins een open einde. Dus wie weet?
ISBN 9789081275026 | paperback | 482 pagina's | Uitgever RH Publishing| januari 2021
Ook als e-book verkrijgbaar bij RH Publishing
© Marjo, 25 april 2021
Lees de reacties op het forum en/of reageer, klik HIER