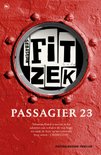 Passagier 23
Sebastian Fitzek

Het is een feit, zegt Sebastian Fitzek in een tussengevoegd (!) nawoord, dat er op cruiseschepen per jaar gemiddeld genomen 23 passagiers verdwijnen. Het was voor de schrijver de aanleiding om deze bloedstollende thriller te gaan schrijven. 'Er is een Passagier 23 aan boord' is de term voor de wetenschap dat er iemand begonnen is aan de cruise met de opzet die nooit te beëindigen.
Martin Schwarz is politiepsycholoog. Vijf jaar geleden heeft hij zijn vrouw en zoon verloren. Zij gingen op een cruise en pleegden zelfmoord, zo staat het in het rapport. Wat is er precies gebeurd? Niemand weet het.
Het gebeuren heeft Martin diep geraakt. Hetgeen hem bezig hield, waar hij voor leefde, het is weg. Nu zoekt hij alleen nog het gevaar op, niets doet hem nog iets. Op dit moment is hij bezig met een infiltratie: er moet een einde komen aan zogenaamde bug-parties waarbij hiv-geïnfecteerden seks hebben met gezonde mensen, en waar kinderen bij betrokken zijn!

Om de gedaante aan van een hiv-geïnfecteerde pedofiel aan te kunnen nemen, injecteert Martin zichzelf: hij moet positief zijn bij de test voor hij toegelaten wordt op het feest. Als echter de echte pedofiel laat weten aan de organisatie dat hij een ongelukje heeft gehad en een voortand mist, aarzelt Martin niet: hij trekt de tand uit.
En dan komt er dat telefoontje. Een oude vrouw, die zegt zich aan boord te bevinden van het cruiseschip Sultan of the Seas, het schip waar Martins vrouw en zoon op voeren, vertelt hem dat ze de knuffel van Timmy heeft gevonden. Martin moet zo snel mogelijk zorgen dat hij aan boord komt. Degene die hem aan boord wilde hebben, wist dat alleen dit – het onderzoeken wat er met zijn vrouw en kind gebeurd is – hem zou lokken. Inderdaad laat hij zijn missie in de steek en vertrekt. Als hij te weten kan komen wat er gebeurd is, dan gaat dat voor alles! Op het schip ontdekt hij tot zijn afgrijzen dat de kapitein die verantwoordelijk was vijf jaar geleden, opnieuw gezagvoerder is! De oude dame die hem belde vertelt hoe zij een meisje dat verloren gewaand werd, tegen is gekomen in een van de onmetelijk lange gangen binnen het schip: met de beer in haar armen.

Het is het begin van een verbijsterend verhaal, waarbij er zich in de ingewanden van het schip dingen af spelen waardoor je nooit meer op cruise zult willen gaan. Sebastian Fitzek laat je denken dat je het allemaal begrijpt, maar zet dan door de lezer tussendoor even toe te spreken en ook alvast een dankwoord te richten tot degenen die het verdienen, alles op losse schroeven. Dat is een gewaagde onderneming: het is spelen met de geloofwaardigheid! Het blijkt een goede ingreep: je bent als lezer de proloog al bijna vergeten, maar...er waren nog vragen niet beantwoord!

Fitzek houdt zijn lezers vast tot het laatste woord. Het is een verbijsterend verhaal, met net even die realistische kern. Een psychologische thriller waar je stil van bent.
ISBN 9789048825271 |paperback|352 pagina's |Uitgeverij House of Books| april 2015
Vertaald uit het Duits door Lucienne Pruijs
© Marjo, 6 mei 2015
Lees de reacties op het forum en/of reageer, klik
HIER