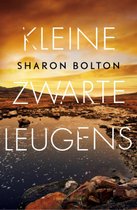 Kleine zwarte leugens
Sharon Bolton

Op de Falklandeilanden is de rust weergekeerd na de oorlog met Argentinië, maar voor de Schotse oud-militair Callum die op de eilanden is blijven wonen, is de herinnering vaak nog heftig. Hij lijdt aan PTTS. Callum hoopt nog steeds dat zeebiologe Catrin met hem mee naar Schotland gaat. Drie jaar eerder hadden ze een relatie, maar Catrin was toen getrouwd met Ben, met wie ze twee zonen heeft.

En toen gebeurde het ergste wat een moeder kan overkomen: bij een ongeluk kwamen haar twee zonen om het leven. Haar beste vriendin Rachel lette even niet op, en de auto met daarin Catrins zoons stortte van het klif. Alsof dat niet genoeg was, kreeg Catrin daarna een miskraam en liep haar huwelijk stuk. Vanaf dat moment sloeg de vriendschap met Rachel om in pure haat.

Als er in de kleine gemeenschap opnieuw een kind verdwijnt, lopen de spanningen hoog op. Eerder verdwenen Jimmy Brown, zeven jaar oud, en Fred Harper, vijf jaar oud. Men ging uit van een ongeluk, maar de lichamen werden nooit teruggevonden. Nu de derde verdwijning een kind van toeristen betreft - Archie West, 3 jaar oud - is de politie er zeer op gebrand dit kind terug te vinden. Dood of levend.

Nu blijkt ook dat de omwonenden al langer in de veronderstelling waren dat Catrin aan het doordraaien was. Als zij bijna tweehonderd walvissen doodschiet - omdat zij gestrand zijn en anders een langzame dood zouden sterven - wordt ze openlijker beschuldigd. Zij heeft laten zien dat ze in staat is om te doden. Erger is dat Catrin dat zelf nu ook beseft, en haar wraakgevoelens laaien op, zeker nu de dag nadert waarop haar kinderen gestorven zijn. Haar onschuld wat betreft de verdwenen kinderen kan ze alleen aantonen als zij de kinderen vindt. Callum helpt daarbij. Intussen is er evenwel een hetze tegen Catrin aan het ontstaan, die te maken heeft met het cruiseschip dat vast ligt aan de kade.

Het verhaal wordt verteld in drie delen die elkaar overlappen in data tot de verhaallijnen bijeen komen op die fatale derde november. Eerst is Catrin aan het woord, dan Callum, en als derde Rachel. Die laatste is even een minder welkome verrassing. Er is een goede reden waarom ook zij verteller wordt, maar de lezer vindt haar op dat moment onsympathiek en wil liever terug naar Catrin of Callum. Natuurlijk lees je door, want de spanning neemt toe. Er is een vierde kind verdwenen!

Sharon Bolton zet haar lezers steeds op het verkeerde been, en komt met een vrij onverwachte maar logische ontknoping. Het is een tenenkrommend verhaal, met op de achtergrond nog wat geschiedenis, over de Falklandeilanden dus. Sharon Bolton woont in Londen, waar veel van haar thrillers zich afspelen. Ze weet als geen ander de sfeer van de donkerste kanten van de stad te beschrijven. Bolton is winnaar van de Mary Higgins Clark Award en genomineerd voor de ITW Thriller Award, de CWA Gold Dagger en de Barry Award.

ISBN 99789400508064 | paperback | 416 pagina's | Bruna| januari 2017
Vertaald uit het Engels door Anda Witsenburg
© Marjo, 5 juni 2017
Lees de reacties op het forum en/of reageer, klik HIER