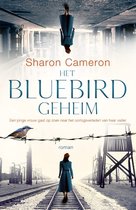 Het bluebirdgeheim
Sharon Cameron

Het is februari (1945) als we kennismaken met de 16-jarige Inge von Emmerich. Het verhaal lijkt ogenschijnlijk heel onschuldig en vrolijk te beginnen, maar tussen de regels door lees je al snel iets ongemakkelijks. De eerste signalen zijn de titels van de boeken die in de boekenkast van Inges vader staan, zoals An examination of Racial Degeneracy of Permission to Destroy Life That Is Unworthy of Life.
Je krijgt kippenvel als je het mantra van Inge 'Ik ben Inge von Emmerich…' keer op keer leest:


Papa zegt dat emotie nooit bij beoordeling betrokken mag zijn. Emotie maakt correcte keuzes moeilijk, en dat is zwakheid. 'En wie zul jij zijn?' vroeg papa dan, terwijl hij haar over haar bol aaide. 'Een van de zwakken of een van de sterken? Vertel eens wat je denkt, Vögelchen.'
Sterk, had ze gezegd. Zij zou een van de sterken zijn.
Inges vingers raken de gouden letters op de rug van het boek aan. 'Ik ben Inge von Emmerich,' fluistert ze. 'Ik ben van papa, mama, Duitsland en de Führer. Zij houden van mij, en ik hou van hen.' Zoals papa haar geleerd heeft. Twintig keer zodra ze 's morgens haar ogen opent, en twintig keer 's avonds, vlak voordat ze in slaap valt. Of telkens als ze zich… onzeker voelt.
De laatste tijd voelt ze zich minder zeker. De laatste tijd heeft ze gedachten die ze niet zou moeten hebben.

Het is augustus (1946) als we kennismaken met Eva Gerst die samen met Brigit Heidelmann onderweg is naar Amerika. Ook het verhaal van Eva bezorgt je vanaf het begin een gespannen gevoel:


'Laat de man achter het bureau jullie papieren zien,' schreeuwt juffrouw Schaffer tegen iedereen in haar rij. Het gejuich is oorverdovend. 'Niets te vrezen. Beantwoord de vragen gewoon naar waarheid, dan is er niets om je zorgen over te maken…'
Alleen zal Eva de vragen niet naar waarheid beantwoorden. En Brigit zal helemaal geen antwoord geven.
Zoveel hoop. Maar daar is Eva niet voor gekomen. Ze komt voor gerechtigheid.


De verhalen van Inge en Eva wisselen elkaar door het hele boek af. Wat hebben Inge en Eva met elkaar gemeen? Waarom wil Eva gerechtigheid? Waarvoor? Van wie? Hoe? Wat is de rol van de CIA in het leven van Eva? En die van de Russen? Wie is Anna Ptaszynska? En wat is Project Bluebird? Zoveel vragen die je als lezer beantwoord wilt hebben, dat je het boek gewoon niet weg kan leggen.

In Het Bluebirdgeheim heeft de schrijfster Sharon Cameron het waargebeurde feit dat er tijdens de Tweede Wereldoorlog in de concentratiekampen medische experimenten plaatsvonden, die gericht waren op de controle over de menselijke geest, uitgewerkt in een bloedstollende thriller. De spanning tussen CIA-agenten en de Russische agenten die beiden in het bezit willen komen van de gegevens die de kampartsen verzameld hadden met hun lugubere experimenten, maar ook de meedogenloosheid waarmee deze agenten dit proberen te bereiken, zijn heel goed in dit boek verwerkt door Sharon Cameron. Dit alles gecombineerd met de natuurgetrouwe weergave van de emoties van de personages maken Het Bluebirdgeheim een boek om nooit te vergeten.


ISBN 978 90 239 6067 0| NUR 302 | Paperback | 462 pagina's | Uitgeverij Mozaïek | november 2021
Het Bluebirdgeheim is vertaald door Roeleke Meijer-Muilwijk.
© Els ten Voorde, 16 november 2021
Lees de reacties op het forum en/of reageer, klik HIER