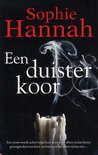 Een duister koor
Sophie Hannah

Louise en haar man wonen nog niet zo lang in Cambridge, en als ze geweten had dat de buurman graag avonden lang naar harde muziek luistert, dan had geen haar op Louises hoofd er aan gedacht om daar te gaan wonen.

Op de avond dat het verhaal begint is het weer zover: Louise staat op de stoep bij de buren, om nog maar eens te vragen om die muziek uit of toch zachter te zetten. Ze is wanhopig, ze wil slapen, maar met Freddy Mercury die zo luid in haar oren zingt, krijgt ze geen enkele kans daartoe.
Als je leest dat deze muziekavonden één, hooguit twee avonden per maand voorkomen, in het weekend, en per uitzondering twee avonden achter elkaar, vraag je je af waarom Louise daar zo'n punt van maakt. Kan ze niet in een andere kamer gaan liggen waar de muziek niet zo doorklinkt?
Nu veroorzaakt ze alleen maar irritatie bij de buurman, die om haar te pesten vanwege haar 'gezeur' de muziek nog eens harder zet.
Stuart, haar man, heeft er geen last van, die slaapt er dwars doorheen en vindt dat Louise dat ook moet doen. En hun zoontje Joseph is niet thuis. Dàt blijkt juist het probleem: Joseph, zeven jaar oud, is opgenomen in het koor van een beroemde koorschool en moet daar intern verblijven. Alleen in de vakanties mag hij naar huis. Het zit Louise ongelooflijk dwars. Ze mist hem enorm en zit duidelijk niet goed in haar vel. Dan is iedere kleine irritatie al snel een bron voor grote ergernis.

De politie bellen, ach, die leggen het naast zich neer. Of toch niet? Midden in de nacht staat er een vrouw voor de deur, milieuambtenaar Patricia Jervis, die belooft te zullen helpen. Louise moet maar eens beginnen met het bijhouden van een overlastdagboek.
Als Stuart de verbouwing van hun huis wil doorzetten – nog meer overlast – en Louise toevallig aanloopt tegen een idyllisch huizencomplex, koopt ze daar een woning. Zo heeft ze altijd een uitwijkmogelijkheid en voor Joseph is het ook goed. Stuart laat het zo, als zij dan maar ophoudt met zeuren over dat ze Joseph van die school af wil halen. En het is er ook wel mooi, daar op dat complex.
Maar dan begint Louise nog andere muziek te horen: een koor zingt! Joseph? Waar komt deze muziek vandaan? De buurman? En hoe kan het dat alleen zijzelf die muziek hoort en later ook de zangers ziet?
Het web sluit zich langzaam om Louise, die zich heel alleen voelt staan.

Dit is in het geheel niet een thriller zoals we die kennen van Sophie Hannah, zoals zij dat dan ook uitlegt in een nawoord. Ze wilde een boek schrijven over geesten, een subtiel verhaal over een geest die je de stuipen op het lijf jaagt.
Is dat gelukt?
Niet als het de bedoeling was dat ook de lezer kippevel zou hebben bij het lezen...
Bijna had je het boek afgedaan als een mislukking als je beseft dat Louise niet alleen een bijna wanhopige moeder is die haar kind zo mist, maar echt belaagd wordt door duistere geestverschijnselen. Op dat moment valt alles op zijn plaats en begrijp je wat de schrijfster aan het doen was. Voor een lezer die Sophie Hannah niet kent van haar eerdere boeken is een geslaagd psychologisch griezelverhaal, maar ja, als je een thriller verwacht valt het tegen en dat is jammer, want schrijven kan ze zeker!

ISBN 9789032514464 | Hardcover| 240 pagina's | De Fontein | maart 2014
Vertaald uit het Engels door Anna Livestro
© Marjo, 31 maart 2014
Lees de reacties op het forum en/of reageer, klik HIER