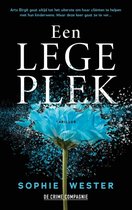 Een lege plek
Sophie Wester

Sander en Annabel willen graag een kind, maar het lukt maar niet. Ze hebben al veel artsen bezocht zonder resultaat. Dan haalt Sander zijn vrouw over om zijn ex-vriendin om hulp te vragen. Annabel vindt het maar niks, maar het is de laatste mogelijkheid. Hun geld is op.
Birgit is mede-eigenaar van een vruchtbaarheidskliniek, ze heeft denkt ze, haar leven goed op de rit. Als Sander haar benaderd blijkt dat eigenlijk niet zo te zijn. Heeft ze echt nog gevoelens voor hem?
Ook al is weet ze dat haar besluit niet door de beugel kan ethisch gezien: ze wijst hem niet de deur.
Maar als het proces eenmaal in gang is gezet, komen bij alle drie de betrokkenen achtergronden naar voren die hun situatie niet bepaald rooskleurig maakt.

Heeft Annabel te maken met de bedreigingen die Birgit krijgt? Is het die sociaal onhandige collega die stiekem verliefd op Birgit blijkt te zijn? Of is er nog een buitenstaander in het spel?


In vijf delen ontvouwt zich een spannend verhaal, hoewel je aanvankelijk meer het gevoel hebt een roman te lezen. Door de proloog weet de lezer dat er echt wel iets meer aan de hand is, maar daar wordt slechts tergend langzaam naar toe gewerkt. Om dan heftig los te barsten, met diverse plotwendingen.
Sympathiek zijn de hoofdpersonages niet echt. Eigenlijk lijkt alleen Mathieu, de tropenarts die bij Birgit in het appartement woont, normaal.
Sander is een machotype die denkt dat de wereld om hem draait. Annabel heeft last van de hormonen die ze nu al zo lang moet gebruiken, maar of ze zonder al die behandelingen wel aardig zou zijn? En Birgit, het slachtoffer van al die akelige voorvallen, heeft last van een jeugdtrauma.
Jaloezie en woede leiden in dit verhaal tot drama.

Sophie Wester is het pseudoniem van het schrijversduo Sophie Fraza en Ester Ankoné. Ze delen als voormalige docenten Nederlands een grote liefde voor taal. Samen rondden ze een schrijfopleiding af aan de Schrijversacademie waar het plan ontstond om samen een thriller te schrijven. Dit resulteerde in 2022 in het debuut Moordende hitte.

ISBN 9789461096838 | Paperback | 300 pagina's | Uitgeverij de Crime Compagnie | februari 2023
© Marjo, 7 maart 2023

Lees de reacties op het forum en/of reageer, klik HIER