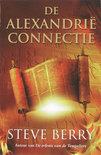 De Alexandrië connectie


Steve Berry
Weer zo'n heerlijke ingewikkelde thriller van een van de beste schrijvers! (vind ik) Berry maakt er heerlijke puzzels van, met verschillende verhaallijnen die elkaar vaak als in een web raken, en met altijd een bepaalde basis die op waarheid berust.
In 1985, vertelt de schrijver, beschreef ene Salibi een theorie over het gegeven dat de gebeurtenissen uit het Oud-Testament zich niet afgespeeld hebben in Palestina, maar elders, namelijk in het westen van Saoedi-Arabië.
Berry heeft die theorie in dit boek gebruikt en kaarten overgenomen uit diens boek om alles te verduidelijken.
In 'de Alexandrië connectie' lekt uit dat de bibliotheek van gelijkgenaamde stad niet vernietigd is zoals verondersteld wordt, maar dat veel documenten voor die tijd al ontvreemd waren en ergens bewaard gebleven zijn. Bij die documenten zou een exemplaar zijn van het oorspronkelijke Oude Testament, en een briefwisseling tussen Augustinus en Hieronymus waarin zij bespreken of ze bepaalde feiten die ooit verkeerd vertaald zijn bekend zullen maken of niet.
Als de Israëliërs ontdekken dat zij misschien helemaal niet in het Beloofde Land wonen, willen zij natuurlijk niet dat het bekend zou worden. De Arabieren op hun beurt willen ook dat die documenten vernietigd worden, want het echte Beloofde Land zou wel eens het gebied kunnen zijn dat voor hem heilig is. En dan is er nog Amerika, de mogendheid die Israel altijd gesteund heeft... in de hogere regionen bevinden zich mensen die vinden dat de aandacht meer naar Arabie moet gaan. Daar zit de olie tenslotte.
Drie partijen die elkaar tegenwerken, of juist helpen, naar gelang het hun het beste lijkt, maar alle drie zijn ze uit op het lokaliseren van de bibliotheek...
Alles draait om macht, hetzij door middel van geld, hetzij door middel van het geloof.
Het is immers heel typisch, zegt Steve Berry in zijn nawoord, dat de drie grote godsdiensten het wel eens zijn dat hun God ook dezelfde is als die van de ander, maar dat zij het Woord van God heel anders interpreteren en daar al eeuwen over ruziën...
Wat ik waardeer in Berry's boeken is dat hij ook de 'makkelijke' dingen steeds verantwoordt. Als je als lezer denkt dat de 'goede' het wel erg vlotjes afgaat, ontdek je ook daar dat het net even anders ligt...
Een ongelooflijk spannende thriller, die de lezer regelmatig op het verkeerde been zet.
Paperback | 448 Pagina's | Uitgeverij De Fontein 2008 ISBN10: 9026123078 | ISBN13: 9789026123078 Originele titel The Alexandra link, vertaald door Hugo Kuipers,
© Marjo, juni 2008
Lees de reacties op het forum, klik hier!
---