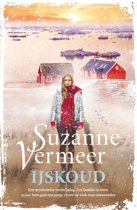 IJskoud
Suzanne Vermeer


Als inspecteur van politie Ben de Groot zijn pensioen ziet naderen besluit hij de laatste jaren door te brengen in de krochten van het politiebureau waar de cold cases opgeslagen liggen. Als er gekozen moet worden welke zaken er opnieuw onderzocht gaan worden, mag ook hij zijn voorkeur aangeven. Dat is niet moeilijk: 25 jaar geleden verdween er een jong meisje. Het was Oudjaarsnacht en ze was niet thuisgekomen van een feest. Johanna van Vliet was pas zestien.
Het was een zaak van de Groot, en ook toen al zat het hem niet lekker: de ouders en broer van het meisje waren terughoudend, wat was het wat ze niet vertelden? Maar de zaak liep dood, er werd taal noch teken van Johanna vernomen.

Als de Groot aanbelt bij de familie, met de vraag of de zaak heropend mag worden, doet een nichtje van het verdwenen meisje de deur open. De 23-jarige Olivia lijkt als twee druppels water op haar tante, hetgeen niet alleen bij de inspecteur voor verwarring zorgt. De vader en broer staan afwijzend tegenover de heropening, maar de moeder en Olivia willen duidelijkheid. Bij Olivia speelt ook nog mee dat ze een scriptie wil schrijven over de ins and outs van forensisch onderzoek, en waarom niet aan de hand van de zaak van haar tante?

De Groot is er niet zo blij mee, maar moet toegeven dat Olivia met haar voortvarende en onorthodoxe manier van onderzoeken meer loswerkt dan hij zelf gedaan zou kunnen hebben. Maar hij is er wel van op de hoogte dat het gevaarlijker is dan zij weet: een van de betrokkenen van toen zit weliswaar in de gevangenis, hij is nog steeds in staat om aan touwtjes te trekken.

Intussen ontdekt Olivia dat haar familie nogal wat heeft verzwegen, vooral haar vader blijkt dingen geheim te houden. En als zij een adres vindt thuis op de zolder is ze vastbesloten zelf op onderzoek uit te gaan, en al raadt iedereen het haar af, ze vertrekt naar Kopenhagen.
Eenmaal daar raakt ze betrokken bij de kwalijke praktijken van een bedrijf dat uit is op de rijkdommen van de Inuit in Qeqertarsuatsiaat en de actievoerders die proberen te voorkomen dat een dorp van de kaart verdwijnt.

Deze wending komt nogal uit de lucht vallen, het lijkt in tegenspraak met het eerste deel van het boek. Maar natuurlijk worden de verhaallijnen keurig met elkaar verbonden en met een bijzondere ontknoping wordt het geheel afgerond. Het is een erg spannend verhaal, waarbij Olivia oog in oog komt te staan met een moordenaar, en waarin er een speciale rol is weggelegd voor inspecteur de Groot die zijn vrouw consequent mevrouw de Groot blijft noemen en die, omdat zij het voor hem gebreid heeft, ook steeds de muts met de pompon ophoudt.
Maar het is dan ook ijskoud, het is met recht een winterthriller.

Suzanne Vermeer is het pseudoniem van de in juni 2011 overleden auteur Paul Goeken. In overleg met zijn familie is besloten om de boeken van Suzanne Vermeer voort te zetten.
All Inclusive (2006) was het eerste boek op naam van Suzanne Vermeer en werd meteen een bestseller. Voor de meeste volgende boeken waren de reisbranche en het toerisme het uitgangspuntvoor deze succesvolle thrillers. IJskoud lijkt een zijweg in te slaan, al blijft een deel van het verhaal zich in het buitenland afspelen.

ISBN 9789400510067 | Paperback | 312 pagina's | A W Bruna | oktober 2018
© Marjo, 2 december 2018
Lees de reacties op het forum en/of reageer, klik HIER