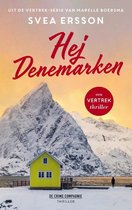 Hej Denemarken
Svea Ersson

In de serie Ik Vertrek gaan twee jonge mensen naar Denemarken. Robin kan er gaan werken voor een bedrijf dat jacuzzi's installeert. Net voor hij haar dat vertelde had Merel van haar baas de vraag gekregen of ze de speelgoedwinkel waar ze werkte wilde overnemen. Het kwam haar dus niet zo goed uit. Maar ze besluit met Robin mee te gaan, ook al laat hij er geen gras over groeien. Ze heeft nauwelijks tijd om na te denken. Maar het is een mooie uitdaging toch?

Het is als een droom: er is een prachtig huis voor hen beschikbaar - met zwembad! - en als ze ziet dat er in het dorp waar ze wonen een winkel leeg staat, gaat ze er alles aan doen om daar voor zichzelf te beginnen. Een speelgoedwinkel natuurlijk.
Ze krijgen veel hulp van hun buren, die lange tijd in Nederland hebben gewoond en Nederlands spreken. De man, Jorg, is meteen enthousiast over Robins werk, en hij introduceert hem ook bij de sportschool. Nu was Robin in Nederland al fanatiek aan het trainen, dus die accepteert onmiddellijk. Dat houdt wel in dat Merel veel alleen zit. Robin werkt lange dagen, gaat dan sporten. Is hij té fanatiek?
Gelukkig is er voor Merel ook afleiding: de buurvrouw, Rebecka, helpt haar mensen te ontmoeten en het lijkt een mooie vriendschap te worden. En ook Merel gaat sporten, en krijgt Jens als personal trainer. Alles gaat goed.

Maar dan gebeuren er vreemde dingen: het hek bij hun huis is onder geklad: foreigners go home, staat er. Iemand gooit verf in hun zwembad. En er wordt brand gesticht, al ontdekken ze dat gelukkig op tijd. Wie doet dat? En wat is er met Robin aan de hand? Hij is vaak chagrijnig, en wordt zelfs agressief.
Als de buren dan ieder op een andere manier opdringerig worden, weet Merel niet meer of ze hier wel zo goed aan heeft gedaan…

Het duurt even voor er echt iets spannends gebeurt, maar het gaat er natuurlijk ook om om Denemarken op de kaart te zetten. Dus er zijn best veel sfeerbeschrijvingen. En als het dan spannend wordt, dan vallen er ook slachtoffers.

Wie houdt van de thrillers van Suzanne Vermeer zal in de Ik Vertrek-serie weer nieuw leesvoer vinden. Dit is alvast een lekker verhaal om een paar uur mee onderuit te zakken. Het leest als een trein, het verhaal van Merel wordt af en toe onderbroken door dat van Robin. De ontknoping is verrassend.

De Ik-vertrek-thrillers is een serie thrillers van Marelle Boersma. Ik Vertrek is zoals velen wel weten, een televisieprogramma dat vanaf 2005 door de Nederlandse publieke omroep TROS werd uitgezonden. Het is een serie reportages waarin Nederlanders, die hun geluk in het buitenland gaan beproeven, gevolgd worden. Marelle Boersma schreef zelf een stuk of vier thrillers in deze serie.

Voor Svea Ersson (1965) is dit de tweede. Zij won in 2008 de schrijfwedstrijd die uitgeverij De Crime Compagnie (destijds Verbum Crime) had uitgeschreven in samenwerking met Vrouwenthrillers.nl en Chicklit.nl. In 2009 kwam haar debuut Alleen Eva uit. Voor altijd Isa (2010), Zonder Lisa (2012) en Na Melanie (2014) volgden. De eerste in de Ik-vertrekserie was Vlucht naar Kos.

ISBN 9789461094735 |paperback |300 pagina's | Uitgeverij The Crime Compagnie| oktober 2020
© Marjo, 28 januari 2021
Lees de reacties op het forum en/of reageer, klik HIER