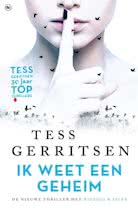 Ik weet een geheim
Tess Gerritsen

Maura Isles is forensisch patholoog. Zij werkt al geruime tijd samen met politie-inspecteur Jane Rizzoli en politie-inspecteur Barry Frost. Hun nieuwe zaak stelt hen voor verrassingen, en vereist nogal wat denk- en speurwerk.

Het verhaal begint met een ik-verteller, de dertigjarige Holly, publicist in Boston, die een begrafenis bijwoont. Ze probeert niet op te vallen: we weten dan al dat er iets speciaals aan de hand is met de overledene. Het betreft een jonge vrouw Sarah Basterah, die naar het lijkt omgekomen is door een ongeluk. Ze zou in slaap gevallen zijn met een brandende sigaret. Als Holly naar het huisadres van Sarah rijdt en het verkoolde huis ziet, stapt ze uit. Het verbaast haar niet dat ze een palmblad ziet liggen, zij weet dat de brand geen ongeluk was.
Zij kent een geheim namelijk.

Er vallen meer slachtoffers. Er moet diep gegraven worden om te ontdekken waarom de slachtoffers aangetroffen worden met uitgestoken ogen, of drie pijlen in de borst, verminkingen die na de dood toegebracht zijn. Isles en Rizzoli onderzoeken de levensloop van de slachtoffers om te ontdekken wat de onderlinge relatie is. Want dat is snel duidelijk: het is het werk van een en dezelfde moordenaar. Ze ontdekken dat ook Sarah Basterah een slachtoffer was.

Het is niet sec een raadsel dat opgelost moet worden, het persoonlijke leven van de dames speelt duidelijk een rol. Bij een van de laatste bezoeken van Maura aan haar terminale moeder zegt deze: 'Je zal er binnenkort wéér een vinden.' Maura heeft geen idee wat zij bedoelt en wat haar rol is. Waarom vinden speciaal deze mensen de dood? Wat betekent de modus operandi? Als Maura en Jane dat eenmaal weten, kennen ze vast ook de moordenaar…
Behalve de twee inspecteurs volgen we ook Holly. Wat haar rol is wordt langzaam duidelijk.

Maura Isles en Jane Rizzoli zijn voor de fans van Gerritsen oude bekenden. Voor mij was het de eerste kennismaking. Het is mij goed bevallen, het verhaal leest prettig, en de plot is geloofwaardig. De betrokkenheid van de beide dames bij elkaar in hun persoonlijke leven is duidelijk aanwezig, maar nooit zodanig dat een nieuwe lezer denkt: ik heb wat gemist. De autopsies, het aandeel van Rizzoli, zorgen voor een grote hoeveelheid details, waar de lezer wel tegen moet kunnen. Dat ribben gebroken worden of een schedel wordt doorgezaagd, dat is nu eenmaal niet wat je graag ziet - of leest. Maar die uitvoerigheid is belangrijk, zeker in deze thriller. Het is een spannend verhaal, met een onverwacht wending aan het eind.

Tess Gerritsen (1953) is een Chinees-Amerikaanse auteur van thrillers. In de Verenigde Staten zijn de meeste van haar boeken bestsellers maar ook in Europa heeft zij toenemend succes.

ISBN 9789044348521 | paperback | 320 pagina's | The house of books| september 2017
Vertaald uit het Engels door Els Franci-Ekeler
© Marjo, 15 september 2017
Lees de reacties op het forum en/of reageer, klik HIER