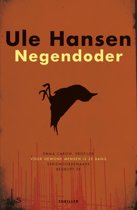 Negendoder
Ule Hansen

Emma Carow is een profiler in Berlijn en heeft zelf de nodige problemen. Ze is in het verleden op een zeer geweldadige wijze verkracht door Uwe Marquardt, een man die na zijn vrijlating een boek over z'n ervaringen heeft geschreven, een boek waardoor hij een soort beroemdheid is geworden. Ergens zint Emma Carow nog steeds op wraak.
Binnen het team van de afdeling Operationele Misdaadanalyse is Emma een soort buitenbeentje. Ze mist sociale vaardigheden, hoewel niet duidelijk is of dit nu uitsluitend haar karakter is, of dat haar ervaringen uit het verleden daar ook nog iets mee te maken hebben. Haar plaats in de groep is onduidelijk en ze hoopt haar chef te vervangen, als deze zwangerschapsverlof heeft. Er komt ook een nieuw lid in het team, dat bij Emma voor de nodige spanning zorgt. Ze heeft haar eigen werkwijze, die in twijfel wordt getrokken, als haar theorieën niet lijken te kloppen.

Op een gegeven moment worden er 3 lijken, van 2 vrouwen en een man gevonden. Deze zijn, op hun gezicht na, helemaal in tape zijn gewikkeld. Bij sectie blijkt dat ze door uitdroging om het leven zijn gekomen.
Er worden weliswaar, zoals Emma voorspelt meer lichamen gevonden, maar toch klopt het niet. Alleen al het feit dat de slachtoffers levend zijn achtergelaten om te sterven is al vreemd voor een seriemoordenaar, die over het algemeen juist z'n kick vindt in het moorden. Bovendien moet het een en ander het werk zijn van een groep, omdat een persoon alleen het een en ander nooit voor elkaar kan krijgen. Er duikt wel al snel een verdachte op, maar die heeft een alibi.

Al met al is het een zeer spannend boek, met een misschien wat vreemde hoofdpersoon. Er is niet al te veel aandacht voor het privéleven van de hoofdpersonen, behalve wanneer dit voor het plot van belang is. Het verhaal wordt heel rechttoe, rechtaan verteld, zonder echte uitstapjes naar het verleden, of een blik in het hoofd van de daders.

Ik moet zeggen dat ik wel benieuwd ben naar het volgende boek van dit schijversduo, Astrid Ule en Erik Hansen.
ISBN 978 90 245 7335 6 | Paperback | 459 pagina's | Luitingh - Sijthoff | oktober 2016
vertaald door Roelof Posthuma
© Renate 23 juni 2019
Lees de reacties op het forum en/of reageer, klik HIER