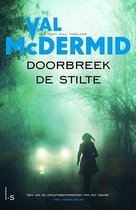 Doorbreek de stilte
Tony Hill thriller 9
Val McDermid

Dit is weer een Tony Hill thriller, hetgeen betekent, dat ook Carol Jordan weer van de partij is.

In het eerste hoofdstuk maken we kennis met de moordenaar, die zich richt op vrouwen, die onder andere actief zijn op sociale media en daar de nodige rotzooi naar hun hoofd krijgen. Vrouwen die zich uitspreken over vrouwenrechten en dergelijke.
De moord waarvan we min of meer getuige zijn wordt zo gepleegd, dat het op zelfmoord lijkt.

In het volgende hoofdstuk vertrekt Carol Jordan na een etentje en haar gastheer bied aan om haar naar huis te laten brengen, omdat ze niet bepaald nuchter is. Ze slaat dit af, omdat het niet ver rijden is naar haar huis, terwijl de weg die er heen leidt uitgestorven is. Helaas wordt ze aangehouden door de politie. Intussen wordt er op een bijeenkomst gepraat over een soort landelijk politieteam voor moeilijke zaken en men overweegt Carol Jordan de leiding te geven. Die zit intussen in een politiecel te wachten tot ze voor een tweede keer een blaastest kan doen. Later zal ze Tony Hill bellen met de vraag of hij haar op kan komen halen en naar huis kan brengen. Hij doet dat en zegt dat ze echt een drankprobleem heeft, hetgeen Carol ontkent. Ze zegt dat ze zonder problemen de drank kan laten staan (tja, dat lijkt iedere verslaafde die in de ontkenningsfase zit te zeggen) en spreekt uiteindelijk met Tony af dat ze een aantal dagen niet zal drinken. Tony Hill gooit op een gegeven moment alle drank die in huis is, weg, hetgeen Carol natuurlijk niet kan waarderen.

Tony Hill leest iets over een vrouw die zelfmoord gepleegd zou hebben. De vrouw, een feministe, die zich op internet uitsprak over vrouwenrechten en die met heel veel rommel en bedreigingen op sociale media te maken kreeg. Hij vraagt zich af er misschien toch iemand bij de zelfmoord betrokken is. Carol lijkt het met hem eens te zijn en hij probeert uit te zoeken of er meer vrouwen zijn die zelfmoord zouden hebben gepleegd, nadat ze op internet zich op internet hebben uitgesproken over vrouwenrechten en ze de nodige bedreigingen hebben ontvangen. Hij vindt inderdaad een tweede zaak.

Carol Jordan krijgt de opdracht om een team samen te stellen, dat zich op verschillende plaatsen bezig kan houden met complexe moordzaken. De aanklacht over dronken achter het stuur zitten verdwijnt van tafel, omdat het blaaspijpje niet goed gefunctioneerd zou hebben. Ook een drietal andere chauffeurs die op zijn gepakt, omdat ze op dezelfde avond dronken achter het stuur hebben gezeten, gaan vrijuit.

Er zijn ook hoofdstukken, waarin we de moordenaar leren kennen. Dit is een man, die op jonge leeftijd z'n moeder, die betrokken raakte bij een verkeersongeval, kwijt is geraakt. Hij is van mening dat vrouwen thuis moeten blijven om voor hun man en kinderen te zorgen en dat ze geen maatschappelijke carrière moeten ambiëren. Volgens hem leidt dit alleen maar tot ellende. Ze zullen zelfmoord plegen net als auteurs als Sylvia Plath, Virgina Woolf, Anne Sexton en anderen, die door feministen vaak als een soort helden worden gezien.

Carol Jordan kiest voor haar team de mensen die ze vertrouwd, zoals Tony Hill en Stacey Chen. Sam Evans, de partner van Stacey Chen, die ook bij de politie werkt, zal geen deel uitmaken van het team, hetgeen hij niet zo leuk vindt. Als een soort oefening besluit Carol dat men zich bezig moet gaan houden met de zelfmoorden van de vrouwen die te maken hebben gehad met bedreigingen via internet.

ISBN 978 90 245 7208 3 | Paperback | 349 pagina's | Luitingh Sijthoff | 2016
Vertaald door Frank Lefevre
© Renate 13 november 2022
Lees de reacties op het forum en/of reageer, klik HIER