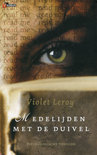 Medelijden met de duivel
Violet Leroy
Op klaarlichte dag wordt de 32-jarige Sara Hirsch in haar winkel in de PC Hooftstraat doodgeschoten. Het is iedereen een raadsel waarom; ze had geen vijanden, ze zou binnenkort gaan trouwen en ook een roofoverval wordt al gauw uitgesloten. Isabel Raven is Sara's beste vriendin. Zij raakte als tiener zwanger, werd het huis uitgeschopt door haar ouders en liefdevol opgenomen door Sara en haar moeder. Wanneer Isabel een mogelijk verband vindt tussen de dood van Sara en de zelfmoord van Isabel's grootouders exact vijftig jaar eerder, gaat ze zelf op onderzoek uit en stuit daarbij op onverwachte geheimen uit het verleden en het heden.

Feiten en fictie spelen dwars door elkaar in dit boek. Wat hebben de Jodenvervolging, de ramp met de Herald of Free Enterprise en de Stones-hit 'Sympathy for the Devil' te maken met Sara's dood? Is er een verband tussen de zelfmoorden van de grootouders van Sara en van de grootouders van Isabel? Wat heeft de eerste vrouw van Sara's verloofde, die omkwam tijdens de ondergang van de veerboot, te maken met de vader van een vroeger buurgenootje van Sara en Isabel, die nu politie-agente is en meewerkt aan het onderzoek naar Sara's dood? Waar is de verloofde van Sara trouwens? De ene vraag na de andere duikt op en Isabel is vastbesloten de antwoorden te vinden.

De moord op Sara blijkt niet het begin, maar het einde te zijn van een onverkwikkelijke geschiedenis die al voor de Tweede Wereldoorlog is begonnen. Verraad, onrecht en eigenbelang zijn de ingrediënten waaruit de auteur een goed opgebouwde thriller heeft gecomponeerd. Aan het eind van het boek is de geschokte conclusie dat je eigenlijk niet anders kunt dan medelijden met de duivel te hebben.

Medelijden met de duivel is een boeiende, indringende thriller. De lezer krijgt een verbijsterend aantal gebeurtenissen en personen voorgeschoteld, die allemaal op de een of andere manier met elkaar te maken hebben. Het is dan ook zaak de aandacht er goed bij te houden. Naarmate de chaos van losse draden tot een logisch geheel worden geweven, wordt een afschuwelijk complot zichtbaar.

Dit is het tweede boek van Violet Leroy, die in 2008 sterk debuteerde met 'Tot op de bodem'. Wat mij betreft duurt het niet nog eens drie jaar voor een nieuw boek van haar het daglicht ziet.

ISBN 9789461090195 Paperback 318 pagina's | Verbum Crime | augustus 2011
© Joanazinha, 9 september 2011
Lees de reacties op het forum en/of reageer, klik HIER