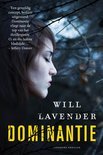 Dominantie
Will Lavender

Het is 1994. De aankondiging van een ongebruikelijke serie colleges doet nogal stof opwaaien. Ze zullen gegeven worden door de letterkundige Richard Aldriss vanuit de gevangenis waarhij zich bevindt na de moord op twee studenten. Zijn colleges zullen gaan over de raadselachtige romanschrijver Paul Fallows. Het is een selectief gezelschap dat de colleges zal bijwonen, het zijn slechts negen studenten. Alex Shipley is een van hen. Zij zal met enige hulp van andere studenten ontdekken dat niet Aldiss de moordenaar was.
In de jaren er na leeft Richard Aldriss teruggetrokken. Ook Alex heeft nooit meer contact met hem gehad, tot nu, vijftien jaar later. Een van de toenmalige studenten is vermoord, op een manier die heel erg lijkt op de werkwijze van de moordenaar van de Dumant-moorden, waar Aldriss voor veroordeeld was. Een andere voormalige student heeft intussen zelfmoord gepleegd. De zeven overgeblevenen komen naar het huis van deken Fisk komen, om van daaruit de rouwbijeenkomst voor hun overleden maat bij te wonen.
Aldriss wordt opnieuw verdacht. Hij vraagt Alex hem te helpen. Wie is degene die blijkbaar van plan is de studenten een voor een te vermoorden? Het is een van jullie, zegt hij.
Het spel 'de Procedure' speelt een grote rol. Vijftien jaar eerder liep dat spel al, en nog steeds wordt het gespeeld. Bij het spel worden scènes uit de boeken van Fallows nagespeeld; 'gevaarlijk spel' vindt Alex, die ooit zelf meedeed. Is de dader een speler?

Het verhaal springt steeds van verleden naar heden en weer terug, gelukkig met een aankondiging boven de hoofdstukken, maar het vergt toch enige concentratie om het geheel te kunnen blijven overzien. De rol van Aldriss is nogal vaag, terwijl hij toch degene is om wie een van de verhaallijnen draait. 'De verborgen geschiedenis', ' silence of the lambs' en een opzet zoals Dan Brown die gebruikt, hebben vast voor inspiratie gezorgd bij het schrijven van dt boek. In ieder hoofdstuk worden tegelijk vragen beantwoord als weer nieuwe gesteld. De lezer moet zijn hoofd er bij houden: wat is waar? Wie houdt wie voor de gek? Het is tenslotte een spel. Maar dan wel een spel dat levens kost, en dat moet ophouden.
Wat een beetje vreemd is, in een boek dat gaat over literatuur is dat de zinsopbouw nogal eens krom, en sommige passages lijken wel uit een stuiversroman te komen. Wat overblijft is geen literaire thriller, maar wel een spannend verhaal voor enkele ontspannende uurtjes.

ISBN 9789400503205 | paperback |272 pagina's |Bruna| augustus 2013
Vertaald uit het Engels door Hans van Cuijlenborg
© Marjo, 22 oktober 2013
Lees de reacties op het forum en/of reageer, klik HIER