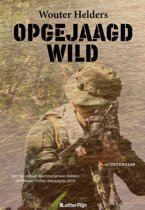 Opgejaagd Wild
Wouter Helders

De Nederlander Sam de Wild is met een aantal andere commando's op missie in de jungle van Frans-Guyana. Van het resultaat hangt zijn verdere carrière af. Wat hij evenwel niet weet is dat iemand hem via trackers volgt, iemand die vast van plan is zijn missie te laten mislukken, gewoon omdat hij niet wil dat er überhaupt iemand de missie volbrengt.

Dan is er een Franse officier die bezig is met duistere praktijken, en Sam komt te dichtbij. De Fransman weet nog meer aan de touwtjes te trekken met als gevolg dat Sam ontslagen wordt! Als SFS, Special Forces Solutions, hem benadert om als huurling dienst te nemen, moet hij die kans wel aangrijpen. Er moet tenslotte brood op de plank!

Het gaat om de beveiliging van de dieren tegen stropers, in een nationaal park in Zuid-Afrika, dat uitgebreid gaat worden over de grenzen heen. Ook hier loopt Sam tegen duistere zaken aan, stropers verdienen nu eenmaal goud geld met de uitvoer van onder andere ivoor naar China. Een blanke Afrikaner die Sams baas is, probeert nog een laatste slag te slaan met illegale praktijken, en Sam zit hem danig in de weg. Zeker als een vriend van Sam vermoord wordt. Als hij denkt wraak te nemen op de moordenaar, wordt hij zelf verdacht van moord en begint een spannende jacht waarbij hij veelal op ingenieuze manier uit handen van zijn achtervolgers weet te blijven.
Maar opnieuw zijn zijn spullen voorzien van opsporingsapparatuur en ziet het er naar uit dat de overmacht te groot is.

Intussen volgen we ook de Vlaamse journaliste Sofie Lafleur, die we kunnen kennen uit twee eerdere thrillers waarin zij een rol speelde. In het laatste verhaal is er een aanslag op haar gepleegd, ze kampt nog met de naweeën daarvan en is nog niet aan het werk. Maar als ze het verhaal van Sam te horen krijgt, hoe die waarschijnlijk onterecht ontslagen is door Defensie, begint het weer te kriebelen en ze vertrekt naar Johannesburg om te achterhalen wat Sam allemaal heeft meegemaakt.

Een pure actiethriller zonder lange uitweidingen. Je wordt als lezer meegesleurd in achtervolgingen, waarbij er vaak gewisseld wordt van vertelperspectief, hetgeen de spanning nog verhoogt. Ook zonder uitgebreide beschrijvingen weet je precies in wat voor omgeving Sam - en anderen - zich bevinden, of dat nu de jungle is of de Zuid-Afrikaanse savanne. Dat is zodanig in het verhaal verwerkt dat het verhaal niet vertraagt.
Deze snelheid verhindert de schrijver niet om af en toe ook wat moois neer te zetten:

'This is Africa. Alles is anders hier. Dat was zeker lijkt, kan een dag later heel anders zijn. Zuid-Afrika is als een slecht opgeknapte oldtimer. De carrosserie ziet er goed uit vol speelse lijnen en authentieke details, maar van dichtbij zie je dat de lak begint af te bladderen en als je de motorkap opent, ontdek je dat de hele bende verroest en verrot is.'

Wouter Helders blijkt zelf jarenlang als militair journalist voor Defensie uitgezonden te zijn geweest, en weet duidelijk waar hij het over heeft. En het thema is helaas nog steeds actueel. Er wordt nog steeds illegaal gejaagd op wilde dieren, vooral olifanten en neushoorns.

Tegenwoordig is Wouter Helders (1983) communicatieadviseur voor het Ministerie van Defensie. Zijn debuut, Machtstrijd, haalde de shortlist van de Diamanten Kogel en won de Hebban Thriller debuutprijs. Verraad, Wouters tweede thriller, werd door ThrillZone genomineerd voor beste Nederlandstalige Thriller. Opgejaagd Wild is het derde deel uit de Sofie Lafleurreeks.

ISBN 9789491875687 | Paperback | 320 pagina's | LetterRijn | september 2018
© Marjo, 15 november 2018
Lees de reacties op het forum en/of reageer, klik HIER